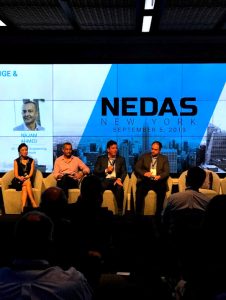 In the always-on world, connectivity is expected to be ubiquitous. When so many aspects of day-to-day life rely on digital means, access to those applications through the internet becomes an imperative. Yet, even as data usage skyrockets and ubiquitous access is being established as an expected component of life and business, the bridge between current consumption and the larger petabyte-sized data sets is not yet in place. With new applications and technologies being created every day, exploring the gaps and challenges of wireless and wireline is crucial.
The 2019 NEDAS NYC Summit, an event strategically located at the intersection of wireless and wireline to promote collaboration and education, explored this topic with a panel titled The Evolution of Automated 5G, Edge and Content Distribution. Moderated by Jezzibell Gilmore, SVP of Business Development and Co-Founder of PacketFabric, the panel featured Andy Champagne, VP and CTO of Akamai Labs; Najam Ahmad, VP of Network Engineering for Facebook; and Don MacNeil, CEO of FiberLight.
In the past, MacNeil notes, when 3G or 4G was being implemented, deployments were more straightforward in that radios and spectrum could be exchanged in favor of more backhaul. However, the ecosystem is hitting a point of exhaustion with backhaul. To lay the groundwork for conversations about network unity, understanding roadblocks like these will be key going forward as bandwidth drives new use cases across the network ecosystem and network ubiquity becomes imperative.
To support the demand for wireless connectivity and capacity everywhere, Ahmad notes that fiber is king. However, building out and densifying fiber, especially in already packed urban locations, remains a challenge. At the same time, wireless remains limited by physics in that the more capacity you get, the less coverage you receive and vice versa. IP traffic termination poses another contemplation here, as currently available PoPs, exchanges and meet-me rooms are being outrun and need to be expanded toward the edge of the network. Champagne notes that we will likely see the number of vital internet exchanges and other similar sites go from an average of 10-20 throughout the U.S. to into the hundreds as sites get smaller and more distributed, yet grow to represent a rising amount of traffic.
All in all, a lot of infrastructure investment is on the horizon, and there are lots of considerations when it comes to connecting fiber, IP and the many points of presence as the network grows to cover more area. Heading into the future, the question will no longer be about getting online, it will be about getting to the forefront of content delivery, security offerings, moving compute to the edge and beyond. While investments are coming from all angles, the industry challenges of the future will center around driving efficient and collaborative capacity building and finding ways to pool resources to build more effective, less fragmented networks.
To view this entire panel session, please click here.
To learn more about NEDAS, please visit www.nedas.com.