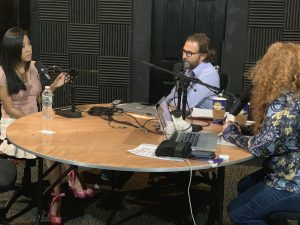 In the past, it was thought that only large organizations would be in need of hyper capacity. However, in the new world of heightened competition, 5G applications and widespread digital transformation, everyone needs expanded network capability to keep up with new data requirements. Data transport is becoming increasingly important, and everyone is seeking new ways to augment the paths that data takes to make operations more efficient and effective. Although, with network deployments struggling to move as fast as demands are increasing, a question of how to achieve truly capable networks remains. 
Episode four of the NEDAS Live! Podcast, hosted by Ilissa Miller, President of NEDAS, CEO of iMiller Public Relations and co-founder of the IND-DCA, and Steve Yapsuga, Co-Chair of the NEDAS Advisory Council and North American Director of Sales for Comba Telecom, welcomed Jezzibell Gilmore, Co-Founder and SVP of Business Development for PacketFabric. At its heart, PacketFabric is dedicated to changing the way the world connects. In terms of the wireline and wireless convergence, the company falls on the wireline side. While much of the buzz around the 5G future centers on wireless, wireline plays a crucial role in ensuring next-generation capabilities and experiences can be delivered. As such, wireline must evolve parallel to wireless as networks change. 
Gilmore states that in the telecom space, bandwidth needs are increasing dramatically, but the underlying infrastructure is more or less remaining the same. It's as if more and more traffic is being sent down the highway, but the road system is not growing to accommodate it, causing congestion and decreased performance. However, once networks are expanded for that additional capacity, the next challenge becomes accounting for the fact that applications and services are quickly being developed to again fill that new space. It's possible that with build and deployment times, the networks that are being developed may not even meet the rapidly expanding demands that will surface by the time the deployments are ready to use. 
To solve this dilemma, automated networks have emerged as a valuable strategy. This term encompasses a range of automated functions, including tasks like configuring servers, scheduling maintenance, integrating web apps or adding services. Automation gives networks the ability to increase the underlying capacity due to the fact that the network was built to make capacity available to end users as it is needed. So, returning back to the road example, in the case of automated private networks, they would function more like a toll road while the Internet and MPLS (Multiprotocol Label Switching) are more like public roads for data to traverse. 
All in all, network automation presents a critical step forward for underlying infrastructure as it evolves to support emerging technologies and business use cases. Latency, capacity and throughput demands are testing the boundaries of current deployments, and automation will likely become a more common solution as more connected devices are integrated, more content is demanded and more capabilities are uncovered. 
To read the previous blog about NEDAS Live! Episode three, please click here. 
To learn more about NEDAS, please visit www.nedas.com. 
To learn more about the NEDAS Live! Podcast or submit yourself for consideration to appear on an episode, please click here.