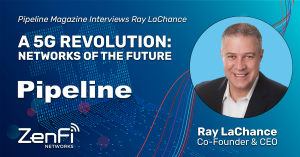 In a recent podcast interview with Pipeline Publishing, Ray LaChance, Co-Founder and CEO of ZenFi Networks, shared his thoughts about the 5G revolution and networks of the future. LaChance discussed how data consumption and production has grown enormously in recent years and this upswing will only continue to gain momentum. Furthermore, he explained how the nature of consumption has changed with next generation applications that require even lower latency, faster speeds, and higher bandwidth along with enhanced accessibility that reaches further toward the edge where users reside.
In 2018 alone, the world created 33 zettabytes of data, roughly the equivalent of 660 billion standard Blu-ray discs. Underlying the movement of data is physical infrastructure made up of fiber optic cables, interconnection points, wireless devices, and siting locations that are uniquely architected to allow carriers and mobile network operators to fulfill their promise of seamless connectivity. LaChance believes, however, a massive investment in upgrading these architectures across the country is necessary to develop the digital infrastructure required to support data demands.
LaChance shared his thoughts about how new network standards are being necessitated by the host of new mobile and wireless applications that 5G networks promise. These include many exciting things like the recent practical and critical use cases of distance learning, teleworking, public safety, and telemedicine that are currently forcing the limits of data transmission.
The explosion in demand is also pushing compute functions closer to the data's point of origin. LaChance contends that performance, speed and capacity are paramount if these capabilities are to be realized. The expectations on networks, along with the challenges they need to solve, have fundamentally changed. As a result, the underlying infrastructure that supports these expectations must be reinvented.
Comparing traditional (legacy) networks, LaChance reminds us all that these networks were designed and deployed to solve a different problem and as such new network designs and deployment capabilities are required to support the 5G revolutions. The key challenge? densification.
To learn more about ZenFi Networks visit: www.zenfi.com