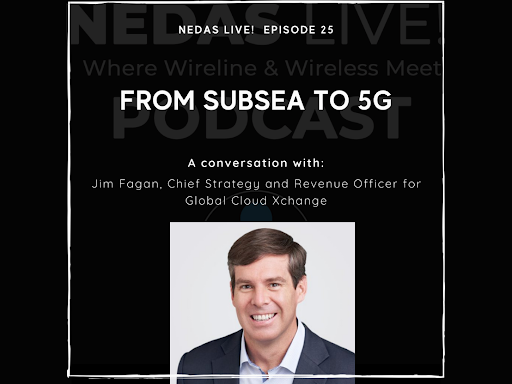 NEDAS Live! Presents Episode 25 "From Subsea to 5G featuring Jim Fagan, Chief Strategy and Revenue Officer for Global Cloud Xchange (GCX), and Ilissa Miller, President of NEDAS. Listen to the podcast as Jim Fagan and Ilissa Miller discuss the current trends, differences in emerging markets and the impact of the demand for increased bandwidth in the gaming industry. Global Cloud Xchange, a network service provider powering global connectivity for new media providers, telecom carriers and enterprises that operates the world's largest global network, including subsea and terrestrial networks. 
From a trend perspective, Jim discusses the explosion of data and the move to 5G that is happening worldwide. Jim explains the increasing number of data center companies expanding into the Middle East, for example AWS launching multiple data centers over the course of the next year and companies like Facebook and Google making large investments into the Middle East. The podcast examines the aggressive move into 5G and having the mobile network and appropriate bandwidth to support the growth in developing countries compared to the United States which has a massive market, similar platforms, similar technology and regulatory aspects. 
NEDAS Live! explores the gaming world and the relationship between gaming and the data center and subsea cable industries. Jim explains that one of the fastest growing markets in the world is the gaming market and the challenges that service providers and gaming providers face when trying to provide the same gaming experience in different regions that have varying levels of connectivity, networks and technology advancements. Jim shares that within the next three to five years, the competitive dynamic and the capability dynamic in regions, such as the Middle East, are going to undergo a massive transformation as well. 
This podcast captures reshaping how data is exchanged throughout the world, trends within the gaming world, software defined networking,  and global networking within different regions of the world and that GCX has great capacity, all over the world with an emphasis on the Middle East. Tune into NEDAS Live! Episode 25, "From Subsea to 5G" to discover the challenges and opportunities in the subsea cable, 5G and gaming industries and how GCX is providing diversity and resiliency for customers. 
To learn more about Global Cloud Xchange, please visit: https://www.globalcloudxchange.com/.