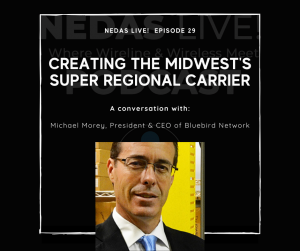 Ilissa Miller, President of NEDAS and CEO of iMiller Public Relations, recently interviewed Michael C. Morey, President, and CEO of BlueBird Network. Morey shares his vision for the future of BlueBird Network and its role in connecting people and businesses across the United States. Morey discusses the founding and development of BlueBird Network and the company's ability to connect people and communities through innovative technology solutions. He also talks about the challenges and opportunities of providing high-speed internet and other telecommunications services to rural areas. Bluebird Network has successfully connected people and businesses in rural communities and is committed to continuing its work in the future.
Since Bluebird's founding in 1998, the company has grown to serve customers in Missouri, Illinois, and the nine surrounding states. The company offers four primary services: fiber connectivity, direct cloud connectivity, data center services, and edge data center services. This is how Morey broke down these four services that BlueBird offers:
Fiber connectivity: "That's really the core of what we do. We have an extensive fiber network that covers the Midwest."
Direct cloud connectivity: "We have direct connections into all the major clouds—Amazon Web Services, Google Cloud Platform, Microsoft Azure—so that our customers can get to those clouds quickly, easily, and securely."
Data center services: "Our data centers help our customers can use them for colocation, disaster recovery, or other purposes."
Edge data center services: "This is a new service that we're offering that allows our customers to keep their data closer to the edge of a network where their customers are."
In terms of Bluebird Network's place in the industry, Morey stated that the company is "probably in the top four in the state of Illinois." He explained that the company is well-positioned to take advantage of trends such as 5G and the increasing demand for data.
The company has continued to expand its service offerings and network infrastructure to keep up with the ever-growing demand for data and internet usage. "You see these trends pushing out, and Bluebird is at the center of all those trends," said Morey when discussing Bluebird's role in the digital world.
When asked his thoughts on the future of telecommunications and where he sees the industry going, Morey replied by saying that in the next few years we will see a big change in the telecom world with 5G. This new technology will allow for much faster speeds and lower latency, which will revolutionize the way we use data. Morey believes that Bluebird is well-positioned to take advantage of this new technology and continue to grow its business.
Morey stated that there is a lot of consolidation taking place. He said, "5G will change the landscape of the telecom world as we know it." Morey said that Bluebird is constantly analyzing data usage across its network to identify new content and network interconnections, which helps keep traffic local. As the need for data increases, so too does the need for Bluebird's services. The company continues to grow to meet this demand and provide its customers with the best possible service.