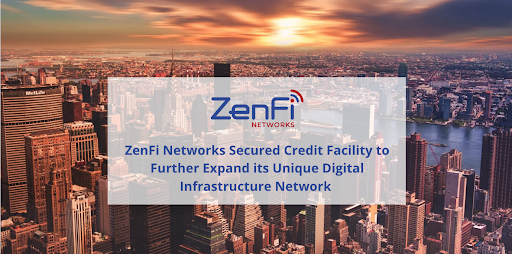 Recently, ZenFi Networks announced its deployment, operation and expansion of reliable 5G network connectivity and free public Wi-Fi, utilizing LinkNYC smart public communications structures across New York City. Now with the $175 Million Senior Secured Credit, ZenFi Networks will use this credit to refinance existing debt, and support continued growth initiatives as the company continues the build-out and expansion of the LinkNYC project throughout the five boroughs of New York City. 
ZenFi Networks is a pure play digital infrastructure platform that serves the New York and New Jersey metro region. They're focused and dedicated to solving the unique network challenges associated with mobile densification. With this credit, ZenFi Networks can partner with syndicate lenders in order to continue the expansion of their different network platforms. Bank Street Group LLC is the exclusive financial advisor and placement agent for ZenFi Networks in connection with this transaction. The new credit facility was led by TD Securities, Regions Securities and Societe Generale. 
To read the full press release, click here.
For more information about ZenFi Networks, visit www.zenfi.com.