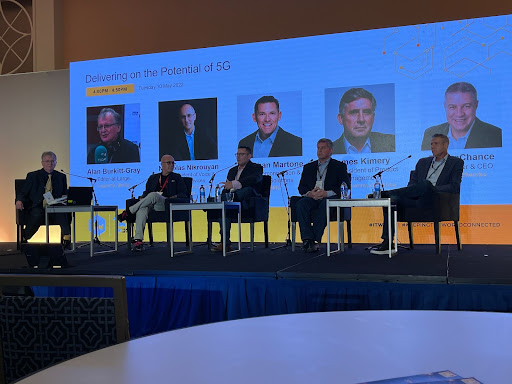 ZenFi Networks' Co-Founder and Chief Executive Officer, Ray LaChance participated in the panel "Delivering on the Potential of 5G" with fellow industry thought leaders at International Telecoms Week (ITW). The topics covered included the value of 5G over Wi-Fi solutions spanning a rapidly increasing number of devices, connected and enhanced security, use cases driving the demand for private 5G networks, and understanding who should operate these complex networks. Ray, a network technology industry veteran, leverages years of experience managing teams that design, build and operate complex, high-capacity communications networks for mobile network operators, wholesale carriers and large enterprise clients. 
5G offers greater device density, lower latency and higher speeds. Despite the promise, uptake among consumers for 5G has been slower than anticipated. However, private 5G networks for IoT and industry 4.0 use cases have emerged as the leading adopters. During the panel, LaChance spoke about ZenFi Networks shift of focus to 5G over the past several years, along with the lofty expectations that have come along with it. 
"At ZenFi we've been focused on the 5G area in the past three, four years, getting ready for ultimate densification. The task of 5G to deliver high speed connectivity at lower latencies with high quality of services was, and continues to be a large undertaking, one that requires a special type of network, which networks of the past weren't necessarily built to support," LaChance said. "So in order to deliver a low latency, and then higher capacity in the ultra density, the focus of ZenFi in our region has been really ultra dense networks over the past about seven years, and that started with dense 4G networks. These new products are the beginning of what we could be offered by the operators in the future. There's new application opportunities, and it just creates a whole new world of development.
ZenFi Networks is currently partnered with CityBridge in the operation of one of the world's largest public Wi-Fi networks, LinkNYC. ZenFi Networks is deploying, operating and expanding its free public Wi-Fi, utilizing LinkNYC smart street furniture across New York City to ensure reliable 5G connectivity. As part of its agreement with the City of New York, ZenFi Networks is obligated to develop publicly accessible digital facilities for social good, and is well on its way to fulfilling that responsibility in partnership with ZenFi Networks.
LaChance spoke on this responsibility, and how ZenFi Networks and the partnering companies are currently supporting the development of multiple "Gigabit Centers" across the five boroughs of New York City. These centers, the first of their kind, are set to provide high-speed Internet, technology innovation and small business development powered by the free LinkNYC public WiFi. LaChance explained how the development of 5G technology
"Along with free public access to the LinkNYC network, these centers will also offer digital literacy training, free access to laptops and workstations, and other services to further help bridge the digital divide," LaChance explained.
Thought leaders on the panel included: