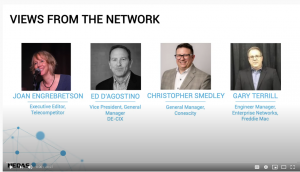 The NEDAS Virtual Symposium aired live September 8-10, 2020, featured a discussion moderated by Joan Engebretson, Executive Editor, Telecompetitor with panelists that included Ed d'Agostino, VP and Managing Director of DE-CIX North America; Christopher Smedley, General Manager of conexcity; and Gary Terrill, Engineer Manager, Enterprise Networks for Freddie Mac – all experts in networking. The discussion explored the viability of wireless deployments from the network perspective. A notable trend in the industry is the ongoing need for network convergence – bridging wireless and wireline technologies – despite the proliferation of fiber networks. Mobile network operators are driving convergence by deploying small cell infrastructure. There are several drivers behind this trend including wireless gear capabilities and the need to construct solutions that support 5G deployments. A notable trend over the last few months has been a push for 5G wireless infrastructure. The COVID-19 pandemic has favored the proliferation of the 5G wireless infrastructure. Another major driver is the want of individuals to be among the firs to have full use of 5G wireless powered solutions.
An illustration of the wireless and wireline convergence is based on the fact that traditional analog lines such as VoIP solutions do not produce strong enough or committed signals – particularly when they are not located properly. 5G technology is at the core of this convergence due to its greater handling capabilities. Fiber connections have been used to phase out the copper transmissions.  The convergence of wireline and wireless technologies is realized through the provision of airborne fiber between buildings. With 5G technology, there is no significant difference in speed between wireline and wireless technology. 5G is considered a major change agent. Convergence is expected to alter how business is conducted by enhancing the speed and performance of network connections significantly. To learn more you can watch the panel in its entirety on the NEDAS YouTube channel here.
NEDAS sits at the intersection of the wireline and wireless infrastructure where interconnectivity is key to enabling the connected world.  The group serves as facilitators of the connected world through the promotion and creation of networking opportunities and innovative thought-leadership programs at the crossroads of wireless and wireline communications infrastructure space. Since 2010, NEDAS programs bring together industry thought leaders, cutting-edge technologies and end-user solutions shaping a new communications infrastructure landscape enabling a more connected world. The NEDAS Virtual Symposium is available online by visiting virtual.nedas.com.