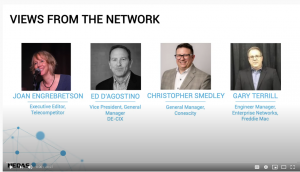 The NEDAS Virtual Symposium aired live September 8-10, 2020 featured a keynote panel, sponsored by Houlihan Lokey, moderated by Sean Hew, the Vice President Houlihan Lokey with panelists that included Patrick Fear, Managing Director and Founding Member at AB Private Credit; Ryan Lepene, Co-President Pepper Tree Capital; and Justin Marron, the CEO Strategic Venue Partners (SVP), discussed the Current Merger and Acquisition (M&A) and Financing Trends facing DAS and small cell providers.  By now, we all know that 2020 has not been a traditional year. The COVID-19 pandemic has unleashed challenges on businesses, irrespective of their sizes, and has definitely affected how companies make decisions, especially in funding new investment and M&A initiatives. From Fear's experience, "cash flows that have strong contractual backing and returning recurrent characteristics maintain absolutely as one would have expected, and projects that had already been budgeted have not been significantly affected."
Lepene noted an increase in data as a result, most things such as work and education being done remotely, which points to feasible areas of investing. According to Lepene, any crisis comes with opportunities, it just requires good management teams to identify them and make a timely decision. When facing a crisis, it is important to take a long-term view, align with good management teams, locate viable opportunities, and look for ways to expand the business. The portfolio companies that Lepene's company, Pepper Tree Capital, deals with are known to have a keen focus on opportunities in all circumstances and, for this reason, are expected to do well even in the future. One notable deal discussed by the panelists is the T-Mobile merger with Sprint, which is considered to be a good thing from a communication infrastructure perspective. Therefore, it is apparent that with the COVID-19 pandemic new challenges have emerged in financing trends, but new opportunities are also there to be exploited. To learn more you can watch the panel in its entirety on the NEDAS YouTube channel here.
NEDAS sits at the intersection of the wireline and wireless infrastructure where interconnectivity is key to enabling the connected world.  The group serves as facilitators of the connected world through the promotion and creation of networking opportunities and innovative thought-leadership programs at the crossroads of wireless and wireline communications infrastructure space. Since 2010, NEDAS programs bring together industry thought leaders, cutting-edge technologies and end-user solutions shaping a new communications infrastructure landscape enabling a more connected world. The NEDAS Virtual Symposium is available online by visiting virtual.nedas.com.