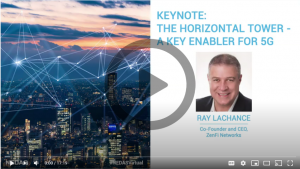 When it comes to building the networks of the future — the networks that will be able to support cutting-edge, highly innovative applications and massive amounts of data from 5G — everyone is looking for the best solution. Underlying infrastructure like fiber and wireless nodes must proliferate in order to deliver high levels of capacity, but the truth is that this isn't a battle infrastructure providers can fight on their own. 
When it comes to managing cost and competition, two factors that are important to solve if we're to make substantial progress, converged, shared infrastructure has emerged as an ideal solution that enables everyone to succeed. This was the topic of a keynote session presented at the NEDAS Virtual Symposium 2020. Delivered by Ray LaChance, Co-Founder and CEO of ZenFi Networks, an innovative communications infrastructure company focused on enabling fiber optic network, network edge colocation and wireless siting solutions in the NY/NJ metro region, this presentation discussed shared infrastructure and the horizontal tower. 
The idea of shared infrastructure is part of the Zenfi Networks operating model — the company's infrastructure (which includes more than 1,300 miles of fiber optic network, nearly 50 colocation facilities, approximately 7,000 wireless sites under contract and more) is shared across multiple customers. This is because it enables operators to deploy network assets more rapidly and in more places at a lower cost of ownership — all of which supports 5G progress. Still, the idea of shared infrastructure and an understanding of its forms and applications has yet to meet the truly mainstream telco sphere. 
So, what is the horizontal tower? Well, it's a model that not only delivers crucial fiber circuits, it solves for the complete, end-to-end infrastructure needs of mobile operators. In discussion, it can have multiple meanings. LaChance explains, "We use 'horizontal tower' as a proxy for the entire mobile communications infrastructure ecosystem, where the network of all mobile infrastructure assets is the tower of the past. In a more literal interpretation, the horizontal tower is the corollary to the vertical macro tower." In essence, baseband processing units and neighborhood colocation facilities connect horizontally through highly accessible fronthaul fiber to a small cell mounted on a lamp post, piece of street furniture, building facade or other location.
This model supports 5G because it creates a huge shared resource opportunity that can help create economies of scale and ensure network architecture is prepared to deliver on the 5G promise. It also supports evolving C-RAN strategies, which is a network model that centralizes the radio access network's high-cost, complex elements in the cloud while distributing low-cost elements (small cells) to improve performance, enhance flexibility and reduce costs. 
All in all, legacy fiber networks were built to solve a sparse networking problem, and 5G-capable networks must be built to solve a dense accessibility problem. As a result, the strategies we employ to create that reality must reflect the revolutionary nature of the network evolution that is occurring. 
The takeaway? The only way we can deliver on the promise of 5G is if fiber-based architecture converges. LaChance's vision is this: The fiber must be connected to the macro sites, to the small cells and to Wi-Fi, and it will be brought back to common aggregation centers on fronthaul fiber links. Then, the traffic can be processed and sent off to the mobile core on backhaul fiber links. The horizontal tower is an example of the industry-wide convergence and collaboration that must occur, and despite the fact that we are still in the early innings of 5G, taking these steps now is key for success down the line. 
To learn more about this topic, this session can be viewed in its entirety here. 
To learn more about NEDAS, please visit www.nedas.com.