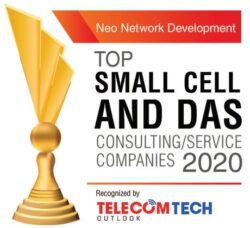 Neo Network Development (Neo Network), a company that provides comprehensive solutions to the access, coverage, capacity and network densification challenges faced by the major U.S. wireless carriers and broadband service providers, recently announced that it has been awarded a spot among the top 10 Small Cell and DAS Consulting/Service Companies in 2020 by TelecomTech Outlook, a Technology Magazine for Telecom. The company's Open Access platform helps streamline the application process for communications infrastructure deployments, paving the way for a more ubiquitously connected world. 
Neo Network's Open Access platform, a public-private partnership and success-based revenue-sharing solution, empowers public sector agencies, helping them facilitate application review processes while marketing active and available rights-of-way opportunities. This platform was specifically designed for public sector agencies and delivers access to a robust, customized solution that helps expedite communications infrastructure applications in alignment with local, state and federal guidelines and regulations. This effectively reduces the complexity of the review and approval process. 
"Our Open Access platform is equally valuable to public sector agencies as it is to the communications infrastructure companies such as wireless and network providers applying for rights-of-way in these jurisdictions," comments Vince Aragona, CEO of Neo Network Development. "Our platform provides data for over 23,000 jurisdictions, allowing carriers to know which communities welcome their investments and where deployments meet existing and available rights-of-way or not. As a result, agencies can actively market and make their communities available to the carriers, offering a streamlined application and review process all while reducing the burden on administrators and taxpayers. It's a win-win for technology deployments as well as communities that want to improve connectivity for their constituents." 
The Open Access platform provides:
Best practices for small cell siting

Engineering and construction standards

A clearly defined application

A planning and permitting process

A unified rate and fee schedule 

All the agreement templates needed to administer pole attachments

Information about cost-free access poles, streetlights, traffic signal poles, buildings, rooftops, water tanks, towers, signage and other vertical structures 

The ability to pinpoint right-of-way locations suitable for placement of new poles 
Those that utilize the Open Access platform leverage a thorough and effective application and review process that helps streamline approvals on deployments. Furthermore, jurisdictions are able to gain better insights into the economic and community development benefits and values of advanced technology, identifying new revenue opportunities that may otherwise be overlooked. 
Neo Network productizes access at the portfolio level, delivering and marketing these assets and their associated business terms to service providers and operators. As sites are selected and reserved, Neo Network supports the leasing, zoning, planning and permitting process and manages the asset base throughout the lease term. Neo Network also offers optional turnkey deployment services, build-to-suit fiber connectivity and carrier project financing.
To learn more about Neo Network, visit: www.neonetworkdevelopment.com.