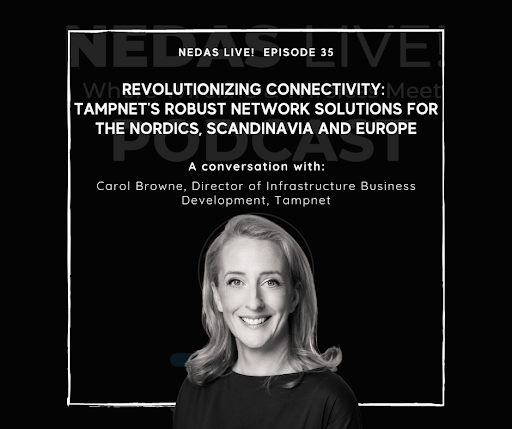 In Episode 35 of the NEDAS Live! Podcast, Ilissa Miller, President of NEDAS and CEO of iMiller Public Relations sits down with Carol Browne, Director of Infrastructure Business Development at Tampnet. As the world's largest offshore high-capacity communication network, Tampnet has pushed the boundaries of subsea fiber, 4G LTE, and LoS systems to ensure seamless connectivity for its offshore customers. Join them as they delve into the dynamic mission critical industry in the Nordics and Tampnet's distinctive strategy for delivering robust connectivity to offshore oil rigs.
For over two decades, Tampnet has been dedicated to building connectivity infrastructure, with a specific focus on establishing fiber-based connections to offshore oil platforms and rigs. Setting itself apart from traditional subsea operators – who generally avoid offshore facilities and navigate their cables along the seabed – Tampnet constructs subsea cables in a direct path leading straight towards offshore platforms. This unique approach allows Tampnet to create direct, high-speed connections between offshore facilities and major population centers. 
To support these direct routes, Tampnet strategically constructs facilities in the middle of the North Sea. These centralized locations serve as vital hubs, enabling the provision of high-capacity fiber cables directly connecting offshore rigs to land. Moreover, these facilities facilitate smooth switching between routes in the event of any disruptions. As Carol explains, "These facilities allow Tampnet to behave like a terrestrial provider albeit subsea." 
Tampnet's network design offers several benefits to its customers. By bypassing traditional European routes, which are often congested and lack true diversity, Tampnet provides reliable and high-performance connectivity across the North Sea. This geographic advantage enables customers to avoid conflicts with existing routes and ensures uninterrupted service between key locations. Furthermore, Tampnet's extensive fiber infrastructure empowers them to scale their services to meet the growing demand.
The Nordics has recently been the site of significant data center growth, driven by environmental considerations, renewable energy sources, and lower power costs, making it an attractive location for data center investments. Tampnet's network infrastructure, which predates much of the data center development, has been crucial in providing diverse and scalable connectivity solutions. To further support the burgeoning data center industry, Tampnet is developing a subsea fiber optic cable system called Norfest, connecting existing data centers and subsea infrastructure in the region.
Tampnet bridges the gap between offshore operations and data centers. With its scalable network solutions and unique hybrid network, Tampnet will play a pivotal role in facilitating the growth of the Nordics as a thriving data center market. 
Tune in to NEDAS Live! Episode 35 "Revolutionizing Connectivity: Tampnet's Robust Network Solutions for the Nordics, Scandinavia and Europe" to hear more about Tampnet's one-of-a-kind network. Click here to listen. 
To learn more about Tampnet, please visit: https://www.tampnet.com/