Originally posted TelecomNewsroom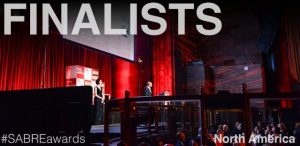 Photo Courtesy of the 2019 SABRE Awards for North America
The 2019 SABRE Awards for North America named iMiller Public Relations (iMPR) as one of five finalists in its Telecommunications category. iMPR is an award-winning, global public relations and marketing firm focused on the Communications Infrastructure sector, working with innovative start-ups, medium-sized and Fortune 50 companies throughout the world.
SABRE, for those outside the Advertising & Public Relations Industry, stands for "Superior Achievement in Branding, Reputation & Engagement." For insiders, it stands for something more personal. It represents long hours of hard work, a brilliant team and unity of purpose. When these elements come together and your work is respected, it's a special feeling.
The 2019 SABRE Awards finalists were included in a shortlist of 300 campaigns selected from over 2000 entries. In such a fiercely competitive market, it's truly an honor to be recognized. This year's winners, chosen by a jury of industry leaders, were announced in an awards ceremony along with the awards for  "Agencies of the Year" and "Best Agencies to Work For." Finalists and about 1,000 industry professionals gathered on May 7th, at Cipriani 42nd Street in New York, to learn the names of the winners.
To read the full article please click here.