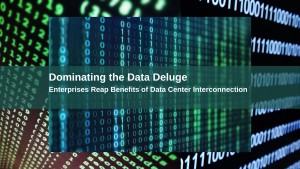 Originally posted to Data Center POST
Enterprises around the world continue to grapple with growth in data, driven by everything from mobile data traffic, digital transformation, cloud computing and the adoption of technologies like the Internet of Things (IoT), artificial intelligence (AI) and big data analytics. Regardless of the source, however, more than 2.5 quintillion bytes of data are created every day – and savvy enterprises should constantly explore the best strategies for handling that data.
One such strategy that enterprises are increasingly embracing is data center interconnection (DCI), which gives enterprises access to multiple service providers and an array of connectivity options. While interconnection has long been used by carriers and Internet providers, enterprises are increasingly recognizing the massive benefits of creating a direct, physical contact point between servers, providers and customers.
Benefits to enterprise IT
Enterprises that embrace interconnection benefit from OPEX savings and improved IT utilization through data center consolidation and virtualization. Likewise, interconnection enables enterprises to achieve better scalability and performance with greater resiliency, while also reducing costs and reducing complexity.
Interconnection also gives enterprise IT Improved flexibility through greater pooling of server and storage resources, improved data control and security. That translates to faster service and response times between data centers for business-critical applications. Moreover, interconnection gives enterprise IT the ability to meet rigorous business and clinical needs, seamlessly share data among providers, safely backup and store millions of records and prepare for growth.
To read the full article, please click here.