February 11, 2021 Event Kicks Off AGL Summit's 2021 Annual Series

ASHBURN, VA – January 26, 2021  – AGL Media Group (AGL), an independent voice reporting on the most significant news, trends and information across the wireless infrastructure industry, announces its 2021 AGL Virtual Summit series lineup starting with its February 11, 2021 event anchored by Marty Cooper, "Father of the Handheld Cellular Phone," and author of "Cutting the Cord: The Cell Phone Has Transformed Humanity."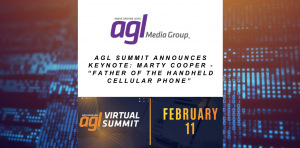 Cooper's Keynote presentation will focus on the future of personal communications and the incredible story behind the invention of the first handheld mobile phone. Cooper worked at Motorola in the 1970's as a pioneer in wireless communications. His experience led to many stunning breakthroughs, devastating failures, and an array of political battles in the quest to revolutionize how people communicate. Cooper's journey comes to life in his book, and will be shared with AGL Summit attendees on February 11, 2021 with a live interactive Q&A session.
"We are thrilled to kick off our 2021 event schedule with a keynote from the industry luminary and groundbreaking visionary Marty Cooper," comments Rick Heilbrunn, President and COO of AGL Media Group. "His story aided, abetted, and revolutionized personal communications throughout the world. We are excited to provide Marty a platform to share his vast insights and experience – including the challenges that he overcame. Today's wireless industry professionals will undoubtedly be awed and inspired by the vast accomplishments Cooper has contributed to the industry."
Highlights of Coopers accomplishments include:
Conceived the first portable cellular telephone handset in 1973
Charles Draper Award recipient
Marconi Prize recipient
Prince of Asturias Laureate
Life Member and centennial medal awardee of the IEEE
Led teams that introduced the first nationwide dial car telephone system, the first nationwide paging system, and the digitally-trunked land mobile dispatch system
Life Trustee of the Illinois Institute of Technology
Holds honorary doctorates from Strathclyde University in Scotland, Inha University in Korea, Hasselt University in Belgium, and IIT
Serves on the FCC Technology Advisory Council
Cooper holds 11 patents
The February 11, 2021 AGL Summit is one of five Virtual Summits planned in 2021. Adapting to a virtual environment due to the pandemic, AGL Summits attracted over 1,500 wireless industry professionals in 2020.  The events bring together industry leaders and experts to share hands-on industry insights and case studies shaping the way wireless technology is deployed and communications enabled throughout the world.
For more information about AGL Media Group, it's 2021 AGL Virtual Summit Series and to register for the February 11, 2021 event visit: https://www.aglmediagroup.com/event/agl-february-virtual-summit/ or go to:
# # #
About AGL Media Group
Now entering its 17th year, AGL has been an independent voice reporting on the most significant news, trends and information across the telecommunications and infrastructure industries. Creative ideas, exchanged between all of the disciplines throughout our industry, have always been an important factor in driving technology and network deployments. The goal of AGL Media Group is to further that dialogue by offering relevant content and education about wireless development and economic growth. For information about AGL Media Group, interest in content contribution, advertising opportunities or event sponsorships, please contact us at sales@aglmediagroup.com and visit www.aglmediagroup.com
MEDIA CONTACT
iMiller Public Relations for AGL Media Group
+1 866 307 2501