Orginially posted to LinkedIn Pulse by Ilissa Miller, CEO of iMPR, President of NEDAS and Founder of the Independent Data Center Alliance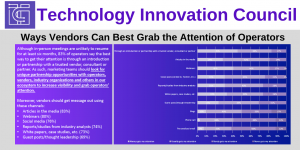 The Technology Innovation Council (TIC), an innovative research initiative that focuses on the technology being deployed in operator networks around the world, issued its Q3 2020 Marketing Recommendations Report.  The initiative, developed and led by Denise Culver, formerly of Heavy Reading, is a collective of carefully scouted individuals at companies of all sizes from around the world who have extensive knowledge of their company's network.
In the research firm's latest report, members were surveyed about the impacts of the COVID-19 pandemic on a number of matters primarily related to sales and marketing.  Of the results published, here is a bulleted list of key findings:
 45-55% of the operator respondents reported that their companies have banned all types of travel indefinitely
With Work From Home (WFH) orders in effect, 50% of the respondents cited that they replaced in-person meetings with web conferencing
69% of respondents noted that they now prefer digital events, with 24% of operators taking part in them
76% of the operators surveyed turn to vendors for educational content
The majority of respondents — 83%, in fact — recommend working with trusted vendors, consultants or partners to assist in generating content and programs and amplifying reach to grab attention in the market.
To read the full article please click here.