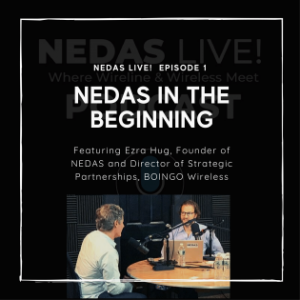 Although ubiquitous connectivity and communications convergence are familiar terms throughout the world of telecommunications, they are topics that have yet to be entirely fleshed out. At their core, these goals demand education, collaboration and actionable discussion to overcome challenges of wireless densification, network evolution and beyond. As the 5G future draws ever closer and the digital world expands, NEDAS, a grassroots association located at the intersection of wireline and wireless with a goal of improving communications infrastructure, has created a new avenue for vital thought leadership: the NEDAS Live! Podcast. 
In its inaugural episode, NEDAS Live!, hosted by Ilissa Miller, President of NEDAS and CEO of iMiller Public Relations, and Steve Yapsuga, Co-Chair of the NEDAS Advisory Council and North American Director of Sales for Comba Telecom, welcomed Ezra Hug. As Director of Strategic Partnerships for Boingo and founder of NEDAS, Hug brings 15 years of experience as a wireless veteran, having built ODAS, IDAS and Macro networks throughout the nation. 
To kick off the discussion, Miller and Hug explore the importance of establishing organizations like NEDAS and keeping them grassroots-based. They note that being comprised of thought leaders that know the wireless and wireline industries best allows for more effective and insightful collaboration. Hug describes how, in the beginning, he saw a gap in the industry where a focus on in-building, DAS (Distributed Antenna Systems) and small cell should have been. As a result, he took the opportunity to create NEDAS (originally called the Northeast DAS and Small Cell Association), an organization that was built on the promise of in-building and outdoor telecom developments. 
Yapsuga adds that NEDAS was approached in an 'un-association' way, reminiscing about NEDAS's well-attended initial events (a trend that continues today) and the excitement that was generated around the industry-focused group of movers and shakers. Since then, the group has continued to evolve just as the transitions surrounding mobility and the future of networks and infrastructure have continued to alter the telecommunications industry as a whole. 
Throughout the industry, data throughput and usage in buildings has exceeded expectations, but in contrast, Hug discusses how the appetite on the carrier side to build out critical networks has been constrained by budgets, demands and beyond. So, going forward, striking a balance between increasing data demands and CapEx spend will be an area of focus. Challenges like these are exactly why NEDAS events maintain a focus on the critical questions — such as who pays for network deployments. 
As conversations shift and new conclusions and solutions are created to meet the expanding needs of the digital future, NEDAS will continue to be a strong proponent of vital creativity, education and collaboration. While strides are continually being made and exciting use cases are recontouring the world of telecom, there remains much to be accomplished at the intersection of wireline and wireless. 
To learn more about NEDAS, please visit www.nedas.com. 
To learn more about the NEDAS Live! Podcast or submit yourself for consideration to appear on an episode, please click here.