Originally posted to LinkedIN Pulse by Ilissa Miller, CEO of iMPR, President of NEDAS and Founder of the Independent Data Center Alliance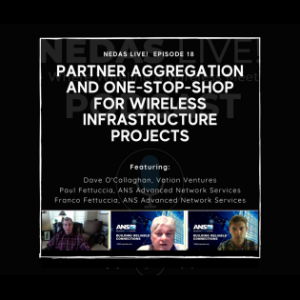 Change is all around us, especially in the midst of the Covid-19 pandemic. One shift that is rippling through the network industry is the move to third party aggregators. Businesses no longer are willing and able to take the task of integrating all the different elements required in wired and wireless enterprise networks. So, they are turning that work over to specialists.
That conclusion was reached during episode 18 of the NEDAS Live! Podcast, the grassroots association focusing on issues at the intersection of wireline and wireless to examines ways to improve communications infrastructure. Hosts Ilissa Miller, President of NEDAS, and Steve Yapsuga, Co-Chair NEDAS and Director of Sales for the Eastern U.S. at Comba Telecom, discussed the industry with Paul Fettuccia, President & General Manager and Franco Fettuccia, Channel Partner Manager, both of ANS Advanced Network Services, and Dave O'Callaghan Managing Partner, Vation Ventures.
A Dark Cloud Looms
The pandemic hangs over the global communications infrastructure sector transforming an already competitive market into a more uncertain one. "The overall economy still has a lot of people without jobs and a lot of people questioning their budgets and what they're going to spend," noted Vation Ventures' O'Callaghan.
To read the full article please click here.