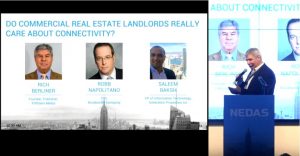 No matter where an enterprise sits in terms of industry vertical or size, most entities nowadays are depending on strong, high-bandwidth connectivity as a cornerstone of contemporary and digital business. With end users and customers looking for quick, easy and accessible service, digital means are providing the best path forward for delivering ultimate value. As a result, when choosing a headquarters or operating location, most businesses look to real estate landlords to provide the high-bandwidth connectivity they need. However, as adoption of emerging technologies spreads and 5G draws nearer, much of the real estate industry needs to reassess how it is delivering its capabilities. As some landlords seemingly fall farther behind the curve, this begs the question: do landlords really care about connectivity? 
Focusing on collaboration, education and exploration at the intersection of wireless and wireline, the 2019 NEDAS NYC Summit delivered a panel about the critical relationship and progression of connectivity management in real estate. The panel was moderated by Rich Berliner, Founder and Publisher for FifthGen Media, and featured speakers Saleem Baksh, VP of IT for Silverstein Properties, Inc., and Robb Napolitano, CIO of The Brooksville Company.  
To begin the conversation, Baksh acknowledged that yes, landlords clearly do need to integrate connectivity for tenants and do care about delivering this capability. He cites a trajectory that leads toward converged networks and a shift in mindset from a focus on internal infrastructure support to offering connectivity assistance to tenants as driving factors. Baksh adds that landlords need to be able to provide on-the-fly VLANs (Virtual Local Area Networks) and other services on short timelines for changing needs. Looking down the road, technology and cybersecurity are main components of expanding this connectivity, with the key being building in the technology on the back end so tenants can be supported.
Napolitano notes that in the future of real estate connectivity, experience will be king. Whether it be by revamping existing networks or ensuring that tenants are able to utilize networks to their full abilities, bridging the digital divide and ensuring tenants have the services and opportunities they need is vital. As networks become more saturated, Napolitano notes that while some building owners will opt to morph into a sort of utility provider, many landlords will instead choose to partner with an expert that can deliver that network capability and experience. 
However, once this need for next-level in-building connectivity has been established, more questions arise. For instance, the panel touched on how landlords are choosing vendors to help create modern buildings with capable communications infrastructure. Baksh notes that it's helpful to ally with a vendor that can help clear out older infrastructure, while Napolitano notes that a partnership approach is key to making any client/vendor relationship fruitful. At the end of the day, access, maximization of value and being able to understand unique needs are the goal, and vendors should be chosen accordingly. 
As a landlord in the coming era of 5G and digital domination, simply renting out the space may prove to be a model that can no longer support the dynamic and expanding needs of businesses. Instead, more high-touch services may be required in some cases as connectivity needs swell, perhaps even shifting the landlord role into that of a type of service provider that works with the tenants. In other situations, choosing a vendor that can set up high-performance networks in more legacy buildings will be a key step. Although the path is not entirely clear and may need to be taken on a case-by-case basis, the future of connectivity and the landlord/tenant relationship only serves to benefit from the groundwork that is being laid in the industry now. 
To view the full panel and learn more about this topic, please click here. 
To learn more about NEDAS, please visit www.nedas.com.