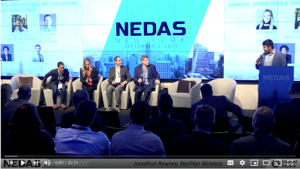 Regardless of how many questions remain, widespread 5G is imminent. As an enabler of this 5G future, CBRS (or Citizens Broadband Radio Service) delivers mid-band access for a critical balance of capacity and coverage. Although, even as CBRS promotes expanded opportunity for wireless evolution and 5G adoption, there are challenges that still need to be overcome and queries that need to be explored. 
To investigate in-building standards and better understand how CBRS and 5G are impacting a range of players in the technology sphere, the 2019 NEDAS NYC Summit, an event focusing on discussion and education at the intersection of wireline and wireless, brought together some industry minds. In the panel In-Building Standards: How 5G and CBRS are Challenging Owners, Operators & Tenants Alike, a few industry insiders explored the ins and outs of CBRS and how it may be adopted to support both current and future requirements. 
One of the big CBRS considerations is that of quality. Before, connectivity was something that was considered mostly in terms of coverage and capacity. On the whole, people were concerned about where it was available and where it wasn't or how much data could be passed through at a time. While that is still a large consideration, the industry is moving closer to a more qualitative assessment, with priorities being low latency and uninterrupted access. Especially when it becomes a question of transitioning between in-building and outside environments, the quality metrics defined by or expected of 5G are vulnerable when it comes to hand off with in-building legacy systems. 
CBRS undoubtedly offers benefits as a robust in-building system, but panelists noted that another consideration lies in what use case is at hand and how the industry ecosystem is evolving. With countless emerging technologies cropping up and connectivity becoming the fourth utility, many organizations are still unsure about what their future will look like and what kind of solution they will need to support it. As a result, many are waiting to implement CBRS. 
Yet, when confronting in-building wireless challenges and solutions, it all comes down to being prepared for the future and for new and dynamic demands. In terms of financing, one option for ensuring affordable deployment and bringing that barrier down is to share costs across multiple carriers. However, with CBRS still developing and finding its place in the market, many venue and building owners remain unsure of what strategy will bring about the best return on investment.
Whether it's more appropriate to implement now or down the line, CBRS, although still an undefined facet of the in-building marketplace, represents a host of opportunities for wireless enablement across various commercial spaces and applications. While the industry will only know what the future holds for tenants, building owners and carriers when it arrives, it is certain that the dialogue surrounding CBRS will define where it takes us in the coming years.  
To get a more in-depth look at this topic, please click here to view the entire panel presentation. 
To learn more about NEDAS, please visit www.nedas.com