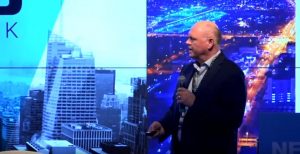 As the pace and trajectory of global technology has quickened and evolved, the relationship between technology and real estate has been changing to suit new requirements and accommodate new demands. Of course, building owners have been quick to adopt new marketing tools and efficiency strategies such as LEED construction, social media and Virtual Reality for walk-throughs, but when it comes to meeting tenants' technology and connectivity needs, this is where they can fall behind. To support the future of 5G and other emerging technologies, the standard business models in leasing (which most commonly involve providing shells and leaving tenants to take care of communications inside the space) needs to be reimagined. 
To explore this critical step in network and business empowerment, the 2019 NEDAS NYC Summit, an event promoting education and collaboration at the intersection of wireline and wireless, offered a presentation from Allen Dixon, Senior Director of Zinwave, called Rethinking Tenant Services. 
To start, Dixon notes that building owners should reconfigure their business model to view wireless as a service they provide to tenants, and there are several reasons why. Because tenants are expecting coverage throughout the building, building managers are clearly noting that better cellular voice coverage would lead to higher lease rates. On the tenant side, the benefits of offering cellular voice coverage as a service include better mobility, better security from LTE protocols and, ultimately, better user experience. 
However, Dixon does acknowledge that funding this service is not so straight forward. The biggest change throughout the industry as a result of this shift in model is that carriers are starting to abandon the fully-funded in-building deployments in favor of shifting responsibility to building owners and tenants. In essence, if building owners want 5G capability, it's up to them to figure out the funding element of the deal. So, Dixon offers a few strategies for figuring out the financials. An easy way is to purchase outright by choosing the vendor, making the installation and then owning the network. However, other options, such as leasing to own or leasing an externally owned network, are emerging as well. With a DAS (Distributed Antenna System), which will run a building about $1 per square foot, this can take an upfront payment of $400,000 down to about $8,000 per month for two years. 
Still, although costs can be managed, one major concern for this type of tenant service is developing a Return on Investment (ROI). With initial costs, plus monitoring and maintenance, building owners have to be able to recoup some value. This involves looking at numerous factors, such as current and anticipated occupancy rate and the ability to upcharge. By upcharging tenants for the additional service and garnering small cell revenues from the operator, it's revealed that even steep installation costs can be recouped in a matter of a couple years. In the end, DAS and in-building wireless services are not a sunk cost like many may think. 
The truth is that as the digital world expands and businesses and individuals become increasingly reliant on connectivity, the expectation on wireless in real estate will only strengthen. As such, models of service provision must change to accommodate end user expectations. Luckily, deployments are not as much a financial burden as they are an opportunity for building owners to increase their lease rates and, over time, recoup value while delivering superior service to tenants. 
To learn more about delivering wireless in real estate and rethinking tenant services, click here to view the full presentation. 
To learn more about NEDAS, please visit www.nedas.com.