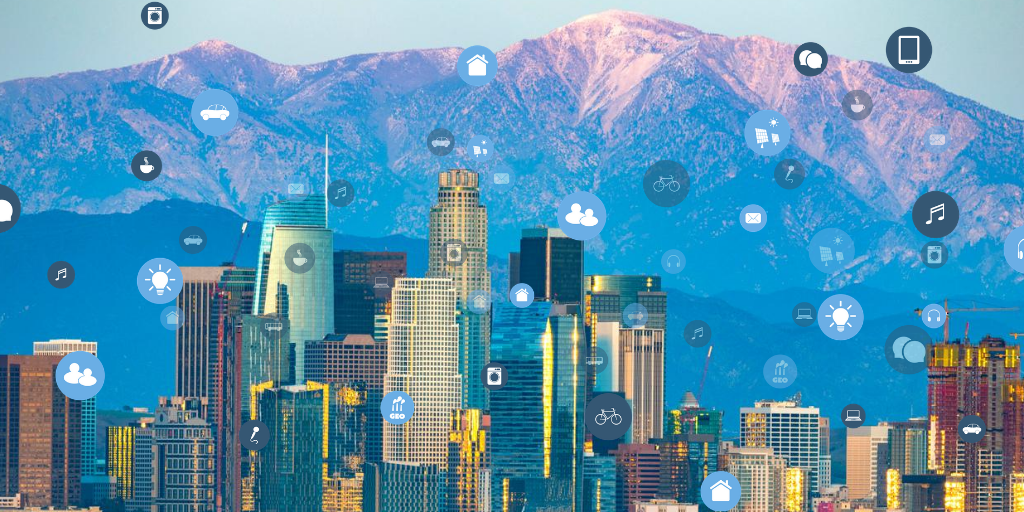 LOS ANGELES, August 24, 2020 – With the rise of connected devices in the Internet of Things (IoT), the hospitality industry is looking at a massive shift that could change the way that hotels cater to their customers. By 2021, experts estimate that 35 billion IoT devices will be installed worldwide. After the recent distributed antenna system installation at the Wilshire Grand Center in downtown Los Angeles, the tallest building west of the Mississippi is now uniquely poised to succeed in an increasingly digital hospitality environment.
"The hospitality industry is changing. While the need for IoT compatibility isn't prevalent in many hotels at this moment, it will soon become an invaluable commodity for the hospitality space. Our guests expect more from us with each visit, especially regarding their wireless connectivity during their stay. It isn't enough to simply offer free Wi-Fi anymore. Our goal is to be a step ahead of the competition in terms of all things wireless while delivering the first-rate guest experience that our customers expect," said the hotel's General Manager, Niles Harris. 
The mixed-use, Class-A high-rise tower in the heart of the Financial District of Los Angeles, is ideally suited for the continued rise of wireless demand and the generation of IoT devices. Comprised of the Intercontinental hotel, as well as office and retail space, the new technology installation has opened up limitless possibilities in the realm of connectivity for the 73-story skyscraper.  Working with SOLiD, Connectivity Wireless deployed a new distributed antenna system to ensure a robust wireless connection throughout the facilities.
"By partnering with Connectivity Wireless to install a new DAS for the property, Hanjin International Corp has positioned Wilshire Grand Center to be at the forefront of hospitality industry innovations. As we continue to see a focus on connected IoT devices in industries throughout the world, those businesses need to act now so that they aren't left behind. Hanjin International Corp's trailblazing wireless acumen situates them as an industry leader in the smart hotel and smart building sectors," said Blake Maffei, Chief Strategy Officer of Connectivity Wireless.
Hanjin International Corp partnered with Connectivity Wireless, a turnkey in-building wireless integrator with over 12 years of complex DAS delivery experience, as the first line of defense in achieving the aggressive timeline and budget objectives. 
"Connectivity Wireless worked diligently to recover valuable time while improving the budget and ensuring that a fully operational system was on-air by the grand opening. This included revised designs and materials, working in tandem with the property's general building contractor, securing wireless carrier approvals and funding contributions, as well as navigating tenant needs to minimize disturbance on occupied floors. We could not have been happier with the results delivered by their team," said Talin Biegler, the General Manager of Wilshire Grand Center.
Raelyn Thomas, Connectivity Wireless' project manager for the system, explained how her team balanced the unique needs of the project: "The Wilshire Grand Center, Cushman Wakefield, Hanjin International Corp, Jacobs, and local wireless carrier teams were wonderful partners with which to collaborate. It was the cohesiveness and teamwork mentality that each company brought to the table that led to the success of this project. Challenges arose, but we tackled them together. In the end, we were able to bring strong and reliable connectivity to wireless subscribers property-wide."
The SOLiD DAS solution leverages 665 antennas, 30 SOLiD DAS remote units, 2,500 feet of fiber, and 78,000 feet of coaxial cable to provide robust coverage throughout the property. 
The 2.3 million-square-foot system supports three wireless carriers and is maintained and monitored for reliability through Connectivity Wireless' ConnectProtect service package. 
"Connectivity Wireless and SOLiD developed a solution that fit the precise needs of Wilshire Grand Center, allowing them to serve their customers, guests, and business' specific and dynamic connectivity needs," said Ken Sandfeld, President of SOLiD Americas. "Equipped with a DAS, The Wilshire Grand Center will likely pave the way for other mixed-use, high-rise complexes throughout the country."
Media Contacts:
Brittanie Boyd, Marketing Manager
Connectivity Wireless Solutions
bboyd@connectivitywireless.com
(678) 310-2251
About Hanjin International Corp 
Hanjin International Corp is a subsidiary company of Korean Air, a global comprehensive logistics group that serves customers worldwide.
About Connectivity Wireless
Connectivity Wireless is a leading provider of in-building wireless solutions to commercial property owners throughout the United States. Having delivered world-class systems and turnkey service – funding, engineering, installation, and maintenance – to more than 50 million square feet of class-A office and mixed-use space, Connectivity takes pride in matching each customer with exactly the right technology to ensure their voice, data and multimedia wireless needs are met, allowing them to focus on their core business. For more information, follow us on Twitter and Linkedin. 
About SOLiD
SOLiD enables indoor and outdoor cellular and public-safety communications at many of the world's best-known and most challenging venues.  From the busiest airports and subways to Fortune 500 corporate buildings, hospitals, hotels, and universities, professional and college sports venues, government, industrial and logistics facilities, SOLiD's modular solutions scale to every challenge. SOLiD continuously innovates to deliver best in class solutions with ALLIANCE 5G DAS, RocketWAVE 5G mmWave repeaters, Infinity Access optical fronthaul and backhaul, and SURF Open RAN (O-RAN) networks.  Edge Connectivity, SOLiD Coverage, visit www.solid.com/us or call 1-(888) 409-9997.