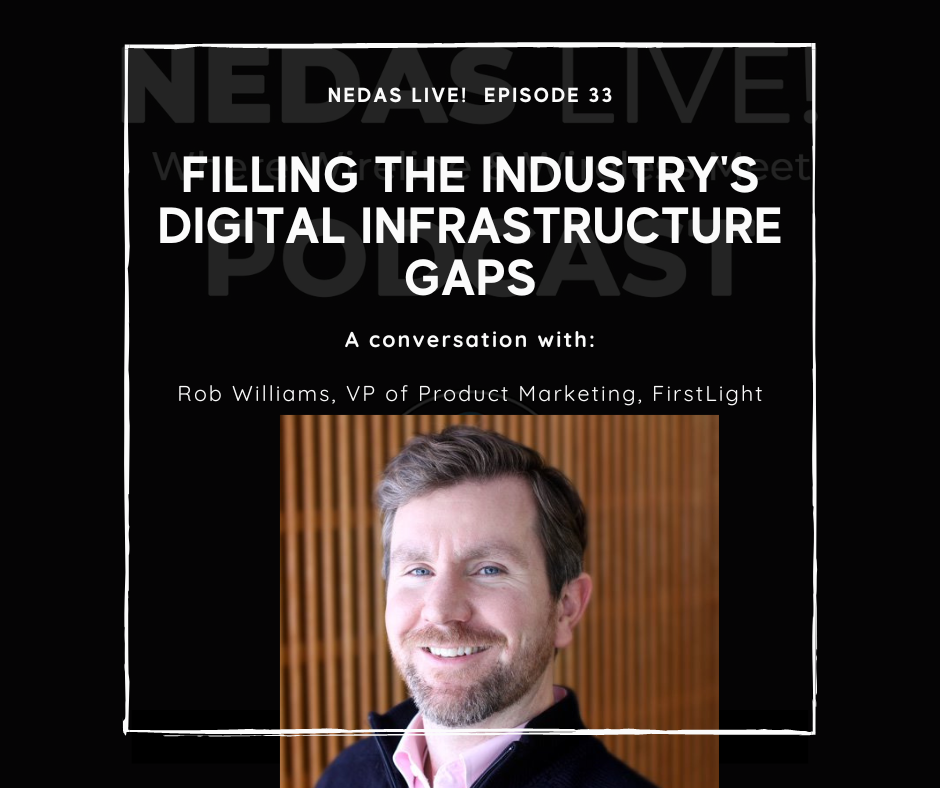 Ilissa Miller, President of NEDAS and founder and CEO of iMiller Public Relations (iMPR), recently sat down with Rob Williams, VP of Product Marketing at FirstLight, to discuss the complexities of managing digital infrastructure, IT and cybersecurity and the flexible solutions FirstLight provides for its customers. If you're not familiar with the company, FirstLight is a super-regional carrier that provides fiber-optic data, internet, data center, cloud, unified communications, and managed services to enterprise and carrier customers throughout the Northeast and mid-Atlantic.
In Episode 33: Filling the Industry's Digital Infrastructure Gaps, Rob discusses the challenges carriers and enterprises face as they grow their business. From digital infrastructure to complex IT management to cybersecurity threats, there are a lot of moving parts that can overwhelm companies and lead to gaps in their overall infrastructure and strategy. Rob has also noticed that companies are often slow to adopt new and emerging solutions. He states, "There are a lot of emerging solutions in the market today for enterprises to help them improve the efficiency and performance of their networks… but many customers are probably looking, 'how long can I get away with no big changes in my organization?'". 
FirstLight understands how challenging it is to properly create and manage a comprehensive IT strategy. That's why in addition to its extensive fiber-optic network, FirstLight provides a wide range of complementary services, including managed services by network infrastructure experts focused on helping companies achieve their mission. "What we do is help customers fill the gaps in their IT strategy that they may not have in place to handle all of the different elements of their management of IT," comments Rob. 
Cybersecurity is another complex and often overlooked part of a company's strategy. A lack of expertise and experience can give businesses a false sense of security, leading to network vulnerabilities. In addition to its managed services, FirstLight seeks to lead the cybersecurity conversation in the industry by organizing expert-led events and roundtables. 
"What we try to do, what we've done over the past couple years, is really bring not just our experts, but other experts. Everything from government entities like the FBI, and Homeland Security, to some of our technology partners, we put on things like industry events, bring everybody together, have these conversations." Rob explains. 
Tune in to NEDAS Live! Episode 33 "Filling the Industry's Digital Infrastructure Gaps" to hear more about how FirstLight's flexible solutions can fill the gaps in your digital infrastructure strategy. Click here to listen. 
To learn more about FirstLight, please visit: https://www.firstlight.net/