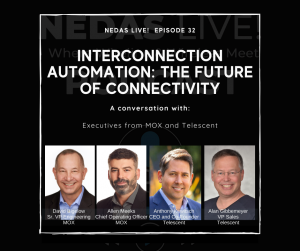 Ilissa Miller, President of NEDAS and founder and CEO of iMiller Public Relations (iMPR), recently sat down with MOX Networks (MOX), a leading fiber-optic network specialist, and Telescent, a leading manufacturer of automated fiber cross-connects for data centers, to discuss the convergence point of technology, where legacy meets the future of automation. 
Joining this NEDAS Live! Podcast representing MOX includes both the company's Chief Operating Officer, Allen Meeks and Senior Vice President of Engineering and Planning, David Bigelow. On behalf of Telescent, CEO and co-founder Anthony 'Tony' Kewitsch, and Vice President of Business Development and Sales, Alan Gibbemeyer.
The Importance of Automation Physical Fiber Connectivity 
In November of 2022, MOX Networks announced that it had signed an agreement to deploy Telescent's fiber automation platform on its cutting-edge fiber route connecting Hillsboro, Oregon to Seattle, Washington along the bustling Pacific Northwest corridor. Through Telescent's Gen 4 Network Topology Manager (G4 NTM), an automated interconnect system, MOX is able to reconfigure their networks on the fly by strategically placing the G4 NTM boxes at important locations. 
Telescent's automation platform also provides MOX with a remote-controlled, easily reconfigurable fiber-optic patch panel, eliminates truck rolls between telephone boxes through the test platform, which allows OTDR traces and power measurements, rapid fault isolation and service restoration. 
Problem Solving With Telescent's Automation Platform 
An issue most carriers see today is the storage of data and testing fiber to diagnose an issue. The common practice today is to dispatch a technician, test the fiber, and take that data and analyze it, only being tested once and stored until testing is needed again. But when you have larger cables laying in the ground for many years, determining where the issue lies in the network can be difficult and potentially cause problems between providers and customers. With Telescent's automation platform, MOX will be able to access their data, past and present, at any point in time.
"Finally, we have an opportunity to see the intelligence in the network layers creeping lower and lower.  In recent years, network intelligence has crept from the application layers into the network layers.  We're starting to see intelligence at Layer 1 within DWDM systems, well, now we're going one step further with Telescent and we've got an opportunity to grab telemetry data at an even lower level of OSP and ISP.  We can gather data at that base fiber-optic-cable level, and start applying analysis for historical and predictive purposes, which is something that just hasn't been done before," comments Allen Meeks, COO, MOX. "Having those opportunities I think was a big driver for us. It solves lots of problems immediately, but it does open up a lot of future opportunities for us to continue developing intelligence on these networks." 
The Benefits of Helping Customers in Real-Time
MOX is able to assist customers in near real-time by looking at the customer's equipment, using the information provided by Telescent's automation platform, and pinpointing where the issue lies, whether it is with the customers equipment or the fiber network. Ultimately pointing MOX's customers in the right direction and getting their system up and running more quickly. 
In the unlikely event of a fiber issue, Telescent's platform allows MOX to look at the fibers from different angles and analyze if the issue is localized, which determines how they will react to maintenance and how to resume operations for the customer, resulting in shorter restoration time. 
Industry Challenges 
As with any revolutionary technology, it takes time. Telescent has prioritized reliability and making sure customers are comfortable and ensure that this is a reliable automation platform that can last 10-20 years. To further ensure this, Telescent has completed the Telcordia Network Equipment-Building System (NEBS) Compliance, a set of safety, spatial and environmental design guidelines applied to telecommunications equipment that includes a battery of over 100 tests, simulating high temperature, low temperature vibration earthquakes. 
Along with reliability, quality is another element Telescent delivers on through their strong partnership with Flextronics, an electronics manufacturing services company, that builds this solution in a million square foot facility in Austin, TX. Telescent's equipment is being built alongside many other leading network equipment providers. 
The Future of Automation 
Where there is fiber, there is a need for automation. Telescent is currently deployed within the multi-tenant data center market, a rapidly growing sector, and several meet-me rooms. Implementing an automation process in already built data centers does not require tearing down old connections, helping to facilitate deployment for new connections. In existing telco facilities, automation eliminates the truck rolls for unmanned central offices. 
"A big emerging opportunity is hyperscalers. And there, it's really allowing the data centers to grow and repurpose the topology, depending on what the workflows are. So we're seeing a lot of now application level drivers for wanting to do reconfiguration, which previously did not exist," added Tony Kewitsch, CEO, Telescent, "And in many ways, it's driven by really energy constraints, they can't have underutilized equipment, when they can't increase the power and put more servers in. So they have to figure out how to do things better with what they've got."
Enterprise governments operate their own specialized network and have specialized use cases. Implementing an automation process would provide remote configurability and remote testing. Across the entire communication space, there are many exciting opportunities for the future of automation. 
To listen to the podcast in full, please click here: https://www.nedas.com/nedas-live/e32-interconnection-automation-the-future-of-connectivity-a-conversation-with-executives-from-mox-and-telescent/
To learn more about Telescent, please visit: https://www.telescent.com/ 
To learn more about MOX Networks, please visit: https://moxnetworks.com/