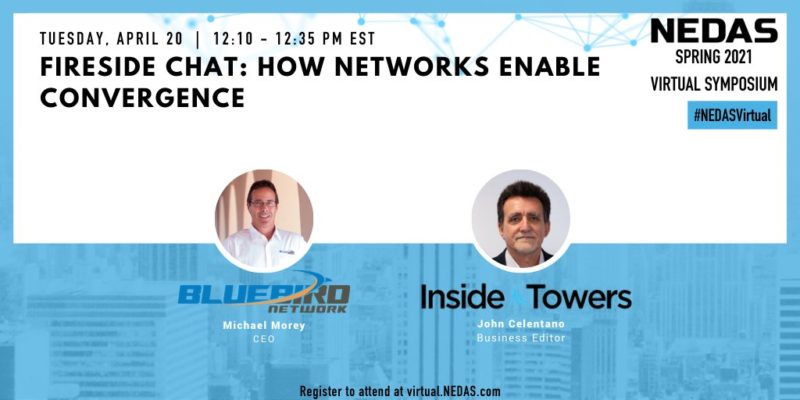 The NEDAS Virtual Spring Symposium kicked off with a timely and relevant discussion entitled, 'How Networks Enable Convergence' in a fireside chat format with Michael Morey, CEO, Bluebird Network and John Celentano, Inside Towers Business Editor.
Bluebird Network, based in Columbia, MO, operates an expansive mid-West network infrastructure comprising 10,000 fiber route-miles that pass approximately 65,000 on-net and near-net buildings, and connect 1,000-1,500 small cells and towers to two main colocation data centers: one underground site in Springfield, MO and the other in Quad Cities, IA.
Morey points out that wireless carriers are meeting escalating demand for high-bandwidth connections by placing small cells closer to customers. This, in turn, drives a need for fiber connectivity.
Bluebird offers a range of high-speed connectivity and hosting data services over its fiber network. It sells connections and capacity to wireline and wireless carriers on a wholesale basis, and directly to Enterprise customers such as businesses, hospitals, schools, and government agencies.
Morey says that Bluebird installs high-count, dense fiber runs in 2, 3 and 4 Tier midwestern cities where it can offer broadband service alternatives to telco and cable operators in those markets. The high fiber count allows the company to respond to services demand from carriers as well as serving a wide range of Enterprise customers without adding new fiber cables.
The notion of edge computing was featured in the discussion. Morey points out that Bluebird defines the edge location in terms of latency, not distance and says that customers can reach either of Bluebird's data centers in 20 milliseconds or less. 5G small cells are being installed closer to customers in many of the small cities and towns that Bluebird serves. The company is uniquely positioned to deliver server replication in less than 20 ms. The company has 32 "edge" huts that are being placed at points in its territory near customers with sub-20 ms latency requirements.
The challenge for network operators like Bluebird is to deploy the necessary infrastructure where it's needed while keeping services affordable. Morey applauded federal government programs that put funding in place for fiber network builds.
The NEDAS Virtual Spring Symposium is a three-day event. It began Tuesday April 20 and runs through Thursday April 22, involving panel discussions, exhibitor booths and networking sessions. Inside Towers is a media partner for the event. Register here to attend.