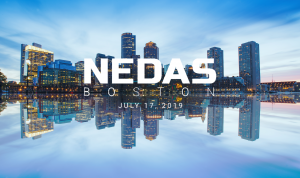 The NEDAS Boston Symposium was held on July 17, 2019, at a new location in downtown Boston: Convene, located at One Boston Place. While the downtown area of Boston is undergoing major construction, with road closures causing delays, attendance at the NEDAS Boston Symposium was at its highest in four years with 200 people registered to attend.
The event was supported by NEDAS 2019 Annual Sponsors and 12 event sponsors, including  Amphenol Antenna Solutions, Anritsu, Broadstaff, COMBA, MaxCell, TESSCO, Timberline, Times Microwave Systems, Winncom, Wireless Supply and ZenFi Networks. The event unveiled the NEDAS 2019 charity organization, the Tower Family Foundation, which will promote and support the mission of helping individuals and families who have been injured or lost loved ones through the dangerous business of tower communication installations.
New to the event was the use of an attendee mobile app, which was sponsored by TESSCO.  The app provided attendees with improved visibility, enabling them to see who was registered, learn who was speaking, get updates on the agenda and engage with other participants.  The highlight of the app was its capability to perform introductions between community members, making the event more personable, fun and memorable.
The program kicked off with a Keynote presentation given by Boingo's CTO, Dr. Derek Peterson. Peterson laid a strong foundation for the day's discussions as he shared insights about how Boingo is increasing connectivity in the midst of the Fourth Industrial Revolution.
Panel discussions ensued with an interesting discussion on how real estate owners and the industry-alike are Preparing for 5G: How can Technology and Real Estate Support 5G and Other Next Generation Services. The discussion was moderated by Berge Ayvazian of Wireless 20/20, with panelists including Gabe Cole, JLL; Jim McCulloch, Vertical Bridge and Kevin Russ with KMB Design.
A very engaging discussion about Women in Tech – Diversity and Adversity Challenging the Norms was moderated by Carrie Charles of Broadstaff. Panelists with Carrie included Aubrey Blosser, Microsoft; Connie Laguardia; Laurie Caruso, Safe Fi Tech and Maureen Hopkins, Tilson. A key takeaway from the panelists to the industry: 'Chill Out.' Yes, it's challenging to find equality in the workforce, but it's also challenging with the hypersensitivities taking place in the greater world. With women in tech positions certainly taking a minority role, women also have the distinct opportunity to help bring awareness to all minorities and the unconscious biases we all have, shedding light on providing opportunity to more individuals regardless of age, race, religion or sex.
The program continued with an interesting discussion about Intelligent Infrastructure: From Siting for Small Cell Deployments to Antenna Signals and Fiber Connectivity – How to Ensure a Network is Designed and Built for Success, moderated by Steve Yapsuga, Co-Chair of the NEDAS Advisory Council. Steve's panelists included Ben Edmond of Connected2Fiber, Ernest Mann of Mann RF Solutions, Josh Doston of GRPS and Chris Horne, PE of eMuWave. All panelists introduced various tools and insights to help companies in the space find current or missing infrastructure routes, measure signal reach and much more. The lively conversation struck a chord among attendees and was noted as one of the topics that needs more discussion at upcoming events.
Among the presentations, the NEDAS Boston Symposium offered three lightning talks, which are short, punchy presentations that aim to give insights into some of the challenges and opportunities the industry is facing. The lightning talks were presented by Gina Rae of Timberline, titled Workforce Development Challenges of Telecom, Martin Hannigan of Deep Edge, titled Where is the Edge?, and Hans Scharler of MathWorks, who provided insights on IoT with a presentation titled Going WIDE with IoT.
The last presentation, which was attended by the majority of participants, was titled Carriers and CRE's – A Symbiotic Relationship That Needs Clarity. The presentation was moderated by Fedor Smith of Atlantic-ACM. Smith was joined by various panelists, including Andy Penley of ZenFi, Christopher Parra of Zayo, Rich Modliszewski of CBRE and Steven Strickland of Extenet – companies all building out the fiber infrastructure in proximity of major real estate locations focused on the enterprise.
One of the new initiatives introduced at the NEDAS Boston Symposium was the group's charity endeavors, spearheaded by Laurie Caruso of Safe Fi Tech for NEDAS. Victor Drouin, President of Green Mountain Communications, presented the Tower Family Foundation's mission, which helps families who have lost loved ones or have had injuries from tower accidents – an unfortunate concern in fortifying and upgrading today's communications infrastructure.
NEDAS will hold its NYC Summit on September 5, 2019, returning again to Convene, located at Four Times Square in the heart of Manhattan. The press are invited to attend for free, along with individuals representing carriers. Discounts for municipalities and students are offered along with partnership discounts that are available from industry media partners. Media partners include AGL Magazine, Bisnow, BraveIT, CloudPOST, Connected Real Estate Magazine, Data Center POST, Global Mass Transit, IBW Congress, iMiller Public Relations, InBuilding Wireless Magazine, INCOMPAS, Inside Towers Magazine, MarketplaceLIVE, TelecomNewsroom and the Women in Telco & IT Summit.
To learn more about NEDAS and its webinars, newsletters and events for the communications infrastructure industry, please visit www.nedas.com. To support NEDAS as a sponsor, exhibitor, speaker or attendee for its NYC event on September 5, 2019, please click here.