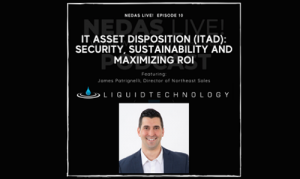 Originally posted on Data Center Post
James Patrignelli, Director of Northeast Sales for Liquid Technology, was featured on Episode 10 of The NEDAS Live! Podcast, hosted by Ilissa Miller, President of NEDAS, CEO of iMiller Public Relations and co-founder of the IND-DCA; and Steve Yapsuga, Co-Chair of the NEDAS Advisory Council and North American Director of Sales for Comba Telecom.As a podcast pro (James regularly co-hosts Liquid Technology's own podcast program: The Tech Bench Podcast), James brings a breadth of knowledge about data security, maximizing ROI and more.
As an industry-leading IT Asset Disposition (ITAD) and e-waste recycling specialist, Liquid Technology has not only been offering the highest level of ITAD services since 2000 — it has been on a mission to spread awareness about the importance of eco-friendly, ethical end-of-life IT practices. This topic becomes particularly critical now that widespread changes from 5G, IoT and other next-gen capabilities are driving change across business — and, subsequently, driving rapid IT turnover. As James notes, "Any time there is a shift, a change or an upgrade… people are going to flock to that. What's going to happen is they're going to put all that new technology in place, and they're going to have to rip out all their old technology."
To read the full article please click here.