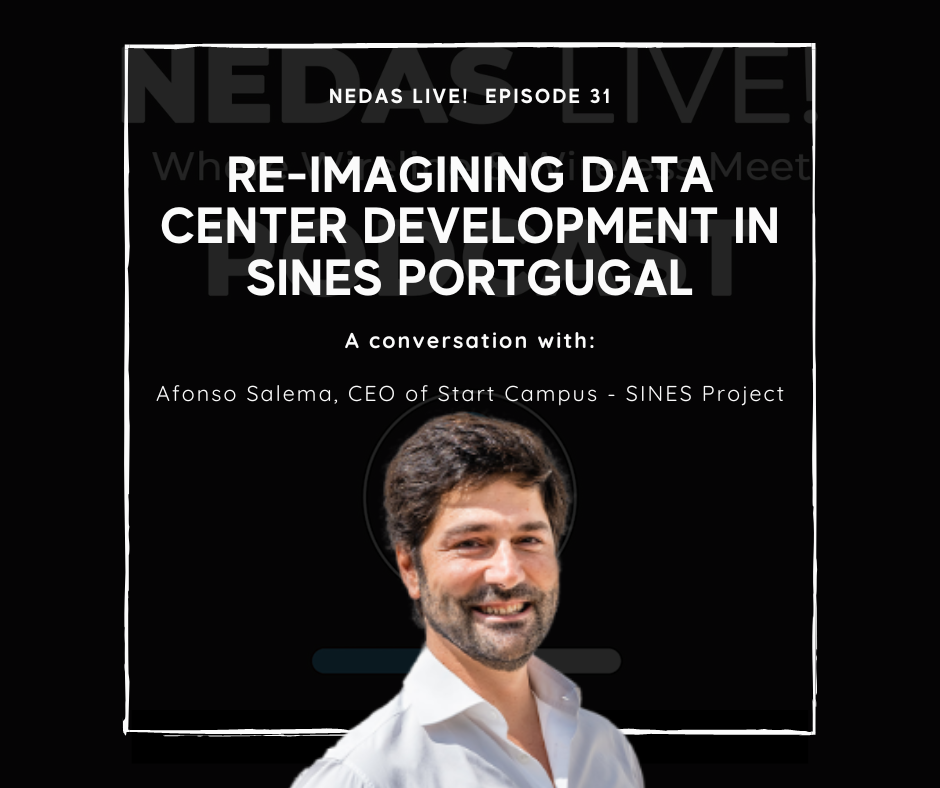 Start Campus CEO, Afonso Salema, recently joined the NEDAS Live! Podcast with host, Ilissa Miller, to discuss the details of Start Campus's 495 MW data center campus, the SINES Project. 
The SINES Project,  located on the coast of Sines, Portugal, is a premium and strategic European location just over 100 km from Lisbon.  The data center campus, currently under construction, will be one of the largest hyperscale data center ecosystems offering 100% green energy. 
Building A Data Center Campus With Power and Data Center Excellency in Mind
By marrying both excellencies of the data center industry with the power industry, Start Campus has set heightened industry standards with the company's long-term sustainable solutions that benefit the  community, the industry, and  the planet. Energy sustainability  is achieved through the repurposing of existing energy grid facilities, utilizing ocean water for  state-of-the-art cooling solutions, as well as solar, and wind, to meet increasing demands for connectivity while minimizing impact on communities and the planet.. These facilities create their own energy, support, improve the environment, and reduce demand on the community's energy grid. 
With a goal of WUE at zero and an existing PUE of 1.1, Start Campus offers tenants a chance to work with 100% renewable efficiency. Salema identified the trends affecting inflation in the infrastructure space. He found a focus to reuse a decommissioned coal power plant in order to recycle and repurpose existing and industrial site and its existing infrastructure to utilize renewable energy sources for the SINES data center campus. Start Campus has access to a high-voltage power grid and will be connected through high-capacity international fiber optic cables throughout Europe, Africa, North America, and South America.
Through repurposing existing infrastructure and prioritizing sustainable solutions, Start Campus will offer a better user experience with a mission to develop  more innovative products and  become one of the most efficient and green data center projects in Europe. 
It's no secret that data center campuses consume a lot of water., Start Campus is setting new standards with the company utilizing an ocean water cooling system that consumes zero water.
How The Ocean Water Cooling Systems and Solar Panels Will Enable Power Efficiency
With the SINES Project being strategically located on the coast of Sines, Portugal near repurposed power plants, the water technology solutions are unique at the data center campus.
By utilizing the Atlantic Ocean as a natural heat sink, the heat of the service is being sent back into the ocean so that the local communities are not impacted by this. By taking water that is being rejected by a liquified natural gas (LNG) facility, Start Campus has the ability to reroute this water to their SINES Project facility to offer prospective customers very low consumptions on cooling power. 
In addition, the facility will offer a myriad of solar panels to add to its power efficiency and further reduce energy consumption on-site. By offering this green solution to power, Start Campus is also using nearby wind farms as well as sourcing additional minor power from BPA to allow customers to be connected 24/7. Data center operators in the past have relied solely on power from utility companies to power their facilities without having a renewable energy focus in place. However, Start Campus will be a first-of-its-kind facility to offer increased renewable energy benefits for its customers.
Why SINES Project's Location is Impactful for Future Growth
With densely populated urban centers blocking new data center developments, Salema realized that building the SINES Project in its current location would lead to expansive growth, the ability for the project to run much faster, and having additional natural resources nearby to meet their 100% renewable energy expectations for the facility.
The problem impacting data center operators is that in Europe there are known issues with data center development and projects not being cleared for construction due to concerns of water and power consumption. Most recently, London announced that it could not expand on its residential development because there is congestion with existing data centers that are consuming massive amounts of power and water in the area.
With SINES Project being strategically located away from urban centers, the concerns of power and water consumption are no longer a focus or concern to local communities. This location allows for the facility to expand further and focus more on scale for its customers. 
Currently, in the data center market, Dublin, Ireland, while not a large city, has more data center capacity than all of Europe. However, one caveat to that is the power limitations they might face while expanding further. SINES Project aims to be on the same hyperscale focus but with increased power efficiency at the facility, which will allow for a larger footprint in the market and to meet the increased customer needs for renewable power.
The SINES Project is currently under construction and will roll out in stages, starting with the first 15 MW followed by 135MW, and finally reaching completion with all 495MW to be online by 2030.
To listen to the podcast in full, please click here.
To learn more about the SINES project, please visit https://www.startcampus.pt/en/location/.