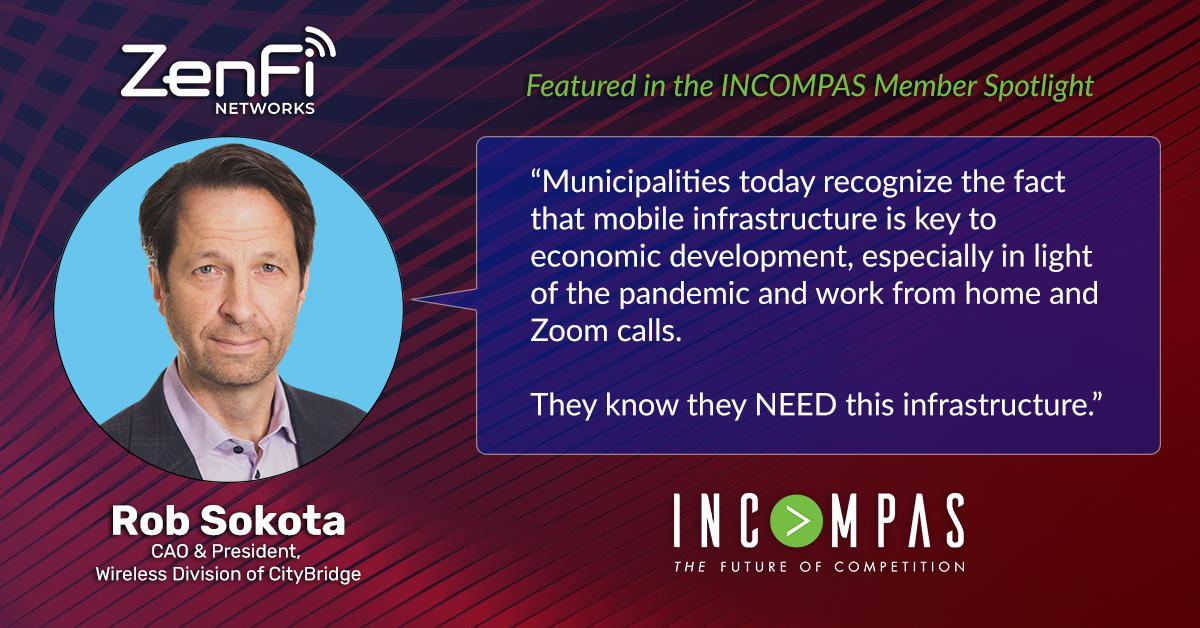 Originally posted on ZenFi Networks
Continuing to Pave the Way In Digital Connectivity Solutions: ZenFi Networks' Unconventional Innovations
INCOMPAS Member Spotlight Interview with Robert Sokota
Our own Chief Administrative Officer and President of the Wireless Division of City Bridge, Rob Sokota, sat down with INCOMPAS during their Member Spotlight Webinar. In this interview, he discussed how ZenFi Networks came to be what it is today, our different innovations such as the LINK NYC Kiosk Network, telecommunications industry trends and much more.
From the company's founding in 2014, through their merger with ZenFi Networks, Sokota was the General Counsel and Chief Administrative Officer of Cross River Fiber. Bringing a wealth of experience from his 20 year career in the telecom industry, Sokota also served as the Senior Vice President, General Counsel and Chief Administrative Officer for AboveNet.  Prior to that, Rob worked for Metromedia International Telecommunications where he helped found and develop telecommunications ventures in foreign countries. Earlier in his career Sokoto also worked as an associate with the law firm Steptoe and Johnson.
Learn more about what we're up to below:
INCOMPAS Angie Kronenberg (I-AK) Question: Tell us a little bit about ZenFi Networks; give us the background of the company and how it's evolved since its inception?
ZenFi Networks Rob Sokota (ZN-RS) Answer: So ZenFi Networks was formed in 2014 by Ray LaChance (Co-Founder and Chief Executive Officer), and some of his partners who had previously worked together with a company which was more of a traditional fiber provider here in the New York City area. In 2014 they started a new firm called ZenFi Networks with a much different focus from their previous company; a business much more focused on the mobile infrastructure area. I, at that point, was working at Cross River Fiber. But in 2018, the two companies merged, and I think it's gone very well for both of us. I think the combination of the ZenFi Networks mobile customer focus, together with the Cross River network experience in New Jersey has really been one of these mergers where, you know, one plus one equals three.
And then to talk a little bit about ZenFi Networks itself, it's focused on the mobile infrastructure area, and deployment of small cells. Small cells are becoming a larger part of the mobile business and ZenFi Networks serves the mobile providers in three key ways. The first is providing sighting solutions. What that means is providing a space for mobile providers to put a mobile radio, if that's a utility pole, a light pole or, in the future we think is going to be on street furniture, such as the Link NYC kiosks. Secondly, we have a fiber network, where we connect that radio back to a network aggregation point where the carriers can have a baseband processing. The third leg would be providing them network edge colocation where they can do baseband processing.
I-AK Q: You're really deploying a unique business model to the communities. How are you distinguishing yourself in the marketplace as compared to what some of the other broadband providers are doing?
ZN-RS A: So when I was at AboveNet, we had sort of a traditional fiber network model; we were focused on putting very high count fiber cables in the ground, to provide services to our customers. When it came to ZenFi Networks, I literally thought it was going to be sort of the same thing but I very quickly learned that it was very different. They had their main focus on providing these very high count cables between data centers, between high-end enterprise locations, mostly for customers with significant bandwidth needs, financial service customers, technology customers. ZenFi Networks has a very different focus because instead of focusing on those sort of high bandwidth customers, we're focused on the small cell market, and being able to provide fiber in a much more densely urban environment so that instead of dropping a pair of fiber every couple of miles, we might be dropping a pair of fiber, maybe every block in New York City, for example.
To read the full article please click here.